Plaza Premium Lounge Opens with a New Face at Kuala Lumpur International Airport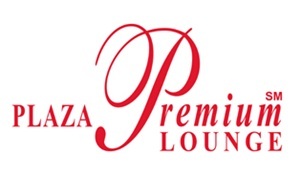 The world leader of airport lounge services Plaza Premium Lounge unveils its latest outpost, Plaza Premium Lounge at the Kuala Lumpur International Airport (KLIA) in Malaysia.
Located at C11 of the Satellite Building, the fourth generation airport lounge introduces business travelers and leisure travelers alike to a new set of standards for airport services. Gone are the days where a lounge wait is bare minimum comfort, today it's a five-star experience with luxury offerings such as spacious sofa seating, marbled floors, VIP-room, crystal chandeliers and considered F&B selections – it's also opened 24 hours.
The food menu is extended to deliver a tantalizing culinary experience. That is to say, not only do they provide a self-service buffet counter with all-day dining options and a salad bar, but all dishes are designed to be paired with one another, seen in their Chicken Biryani and Basmati Rice; and Daily Soup and our Freshly-Baked Bread Roll from their ovens, moreover, they have included a noodle bar featuring their signature Hakka Pan Mee Noodles.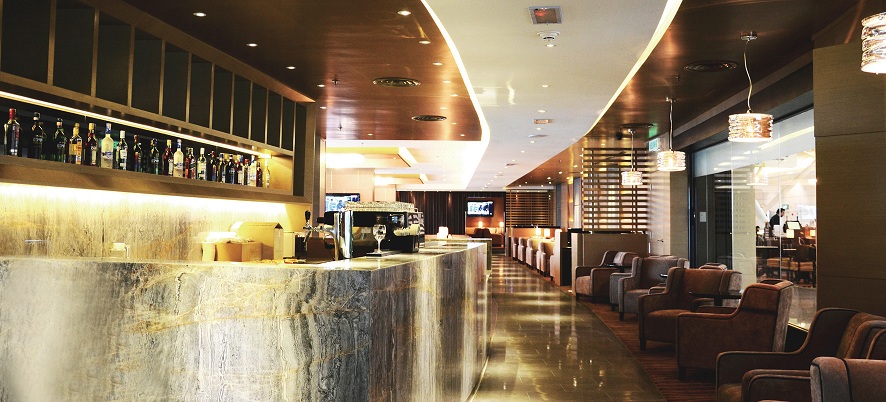 With a five-star design by Kinney Chan and an extensive range of food offerings, the newly opened Plaza Premium Lounge at KLIA delivers an airport lounge that exceeds aviation expectations
Equally enticing is the newly introduced Coffee Station, offering an extensive range of drinks made from Java Coffee Beans served by their in-house barista. Also at the Coffee Station is a range of snacks, this includes their signature Pandan, Chocolate or Oatmeal Cupcakes as well as a Yogurt Cup. Also available is free-flow draft beer and wine and spirits at the station.
First of its kind, the new lounge is designed by celebrated Hong Kong interior designer Kinney Chan, who also designed the lounge at Hong Kong International Airport. The design relays the commitment to introducing a first-rate lounge and continues their lead as the world's premium lounge and airport service provider. Design elements such as the Mother-of-Pearl reception wall, signature Plaza crystal chandelier and the 100% New Zealand wool carpets are just some of the many attention grabbing features of the lounge.
They have created a space not only limited to first-class travelers but open to the public designed to cater to all purposes. That ranging from airport event space; conference centre; business centre; meeting point, fully equipped with Wi-Fi, neck and shoulder massage, power sockets. shower facilities and television and computer screens.
Plaza Premium Lounge currently operates in more than 70 locations at 21 international airports – Hong Kong, Beijing, Shanghai, Guangzhou, Kuala Lumpur, Kota Kinabalu, Penang, Langkawi, Johor, Singapore, New Delhi, Hyderabad, Male, Muscat, Riyadh, Jeddah, Damman, Madinah, Toronto, Vancouver and Edmonton.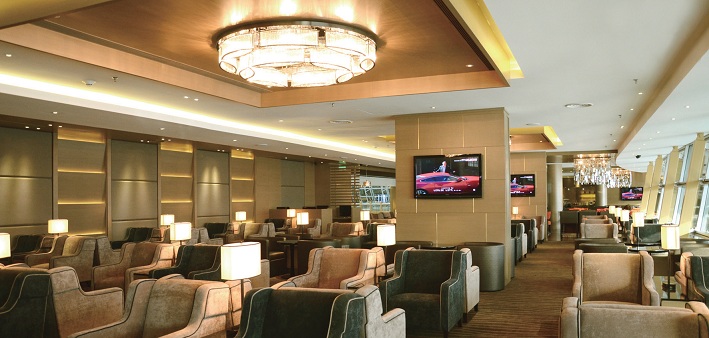 About Plaza Premium Lounge, Kuala Lumpur International Airport
This newly launched flagship lounge is a global extension of our popular award-winning flagship lounge in Hong Kong International Airport. Occupying a total area of approximately 7500-square-feet, this lounge consists of 10 sections – Massage Area, Self-served Buffet Area with Hot Food Station, Dining Space, Bar and Coffee Station, Noodle Bar, Relaxing Area, Lounge Area, Business Centre, Shower Rooms and VIP Resting Area.

Design Concept
Spearheaded by one of the most celebrated interior designers from Hong Kong, Kinney Chan, our lounge is more than just a serene sanctuary fused with modern facilities; it sets a new standard for airport lounges with its first-class service and use of sophisticated materials. All these features are blended harmoniously to render a comfort-beyond-horizon experience for every traveler seeking a quiet and relaxing retreat during their wait time at the airport.

• From colour tone, subtle lighting to the fine finishing of the furniture, every detail is intended to ensnare the senses and calm the mind. Spacious and special-made resting chairs with different seating arrangements

• Custom-designed Mother-of-Pearl reception counter

• 100% New Zealand wool carpet throughout the lounge

• Exclusive VIP resting area with a secured private entrance

• Designer: Kinney Chan, he also designed The Travelers' Lounge at Hong Kong International Airport and the Plaza Premium Lounge in Vancouver, Toronto, India, Maldives, Guangzhou and Singapore